About Us
Indian Chef is a Curry takeaway in Sheffield. Why don't you try our Aloo Methi or Malaya (Medium)?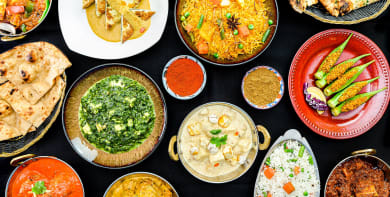 Reviews
297 reviews
Elizabeth
"Excellent food and delivery,the gentleman who delivered it was really pleasant.would definitely recommend."
26/05/2020
David
"Great food as always"
24/05/2020
Stephanie
"Great food every time"
24/05/2020
mark
"Fantastic food and great service highly recommended thank you"
22/05/2020
Menu
Chicken Tikka Donner Kebab with Naan
£7.90
Donner Kebab on Fresh Naan
£4.75
Donner Kebab on Garlic Naan
£5.00
Chicken Tikka Sandwich in a Garlic Naan
£7.00
Chicken Tikka Sandwich in a Naan
£6.90
Aloo Methi
Cooked with fresh coriander
Spicy medium
£3.75
Bombay Aloo
Spicy potato cooked with fried onion & tomato
£3.50
Chana Aloo
Spicy potatoes & chickpeas
£3.50
Chana Masala
Spicy chickpeas
£3.50
Bhindi Bhaji
Okra green vegetables
Spicy medium
£3.75
Aloo Gobi
Spicy cauliflower & potatoes
£3.50
Daal Samba
Lentils with mixed vegetable garnished with garlic butter
Spicy hot
£3.75
Mutter Paneer
Cottage cheese cooked with peas
Mild creamy spicy
£3.90
Masala Daal
Lentils cooked with butter garlic & spices
£3.50
Saag Aloo
Spinach with potato
£3.50
Saag Paneer
Garlic butter with spinach & cottage cheese
Mild & creamy
£3.90
Mixed Special Jalfrezi
Spicy medium hot
£8.90
Nuwabi Gosht
Lamb cooked with fresh green chillies & fresh coriander
Spicy hot
£7.25
Pasanda Chicken
Spicy mild cooked with almond flakes
Spicy mild
£7.25
Pasanda Lamb
Spicy mild cooked with almond flakes
Spicy mild
£7.25
Sag Chicken
Cooked with garlic & spinach
Medium
£7.25
Sag Lamb
Cooked with garlic & spinach
Medium
£7.25
Achar Chicken
Cooked with pickles
Hot
£7.25
Achar Lamb
Cooked with pickles
Hot
£7.25
Aloo Chicken
Spices cooked with potato
Medium
£7.25
Aloo Lamb
Spices cooked with potato
Medium
£7.25
Chicken Makhani
Chicken tikka cooked with butter & creamy sauce
£7.25
Ginger Lamb
Cooked with fresh ginger & fresh coriander
Medium spicy
£7.25
Hariyali Chicken
Cooked with mint & spinach
Medium
£7.25
Hariyali Lamb
Cooked with mint & spinach
Medium
£7.25
King Prawn Pasanda
Cooked with almond flakes & cream
Spicy mild
£10.20
Kalia Chicken
Mint & green chillies
Spicy hot
£7.25
Kalia Lamb
Mint & green chillies
Spicy hot
£7.25
Chicken Tikka Shashlik
With rice & vegetable curry
£9.90
Half Chicken Tandoori Main
With rice & vegetable curry
£8.90
Tandoori King Prawn Main
With rice & vegetable curry
£10.50
Tandoori Mixed Main
With rice & vegetable curry
£9.90
Tikka Main Chicken
With rice & vegetable curry
£8.90
Tikka Main Lamb
With rice & vegetable curry
£8.90
Set Meal For 2
2 Poppadoms
1 Onion bhaji
1 Shami kebab
1 Naan bread
1 Lamb bhuna
1 Chicken dupiaza
1 Boiled rice
1 Yoghurt mint sauce
£18.50
Set Meal For 3
3 Poppadoms
1 Shami kebab
1 Chicken tikka
1 Onion bhaji
1 Pilau rice
1 Naan bread
1 Lamb bhuna
1 Chicken dupiaza
1 Chicken tikka curry
1 Boiled rice
1 Yoghurt mint sauce
£30.50
Set Meal For 4
4 Poppadoms
1 Onion bhaji
1 Tandoori
1 Shami kebab
1 Chicken tikka
1 Boiled rice
1 Naan bread
1 Chicken dupiaza
1 Chicken tikka curry
1 Lamb bhuna
1 Chicken korma
1 Pilau rice
1 Portion of chips
1 Yoghurt mint sauce
£38.50
Set Vegetarian Meals For 2
2 Poppadoms
1 Vegetable samosa
1 Mushroom bhuna puree
1 Gobi aloo
1 Chana masala
1 Garlic naan
1 Mushroom fried rice
1 Yoghurt mint sauce
£17.00
Nawabi Style Pasta
With hot green chilli
£9.95
Sirloin Steak
With chips, fried onions & mushrooms
£8.50
Mushroom Omelette
With chips
£5.90
Masterchef's Special Biryani
£9.95
Vegetable Biryani
Suitable for vegetarians
£7.00
Shami Chicken Kebab Starter
£2.75
Onion Bhaji
Specially created for vegetarians
£2.10
Pakora
Also suitable for vegetarians
£2.90
Karahi Mixed Kebab Starter
£3.75
Pickle Tray
Pickle tray consist of: Sweet Mango Chutney, Lime Pickle ,Fresh Onion Salad , Fresh Mint Sauce
£2.50
King Prawn Balti
Spicy medium hot
£10.20
Balti Chicken
Spicy medium hot
£7.25
Balti Lamb
Spicy medium hot
£7.25
Mixed Special Balti
Spicy medium hot
£8.90
Mince Balti
Spicy medium hot
£7.90
Prawn Balti
Spicy medium hot
£8.50
Tikka Balti Chicken
Spicy medium hot
£7.25
Tikka Balti Lamb
Spicy medium hot
£7.25
Stuffed Paratha
Spicy vegetables
£2.30
Peshwari Naan
Cooked with sweet almonds paste
£2.70
Kulcha Naan
Spicy onion base
£2.70
Garlic & Fresh Coriander Naan
£2.50
Special Fried Rice
Cooked with mixed nuts & sultanas
£3.00
Vegetarian Special Balti
Prepared with spicy tomato, onions, green peppers & ginger
Spicy medium hot
£5.90
Mixed Vegetable Pasanda
Spicy mild cooked with almond flakes
Spicy mild
£5.90
Moonj Daal Masala
Spicy medium
£5.90
Fish Curry (Medium)
Fish cooked with special blend of herbs & spices in medium sauce
Medium
£7.50
Fish Curry (Mild)
Fish cooked with special blend of herbs & spices in mild sauce
Mild
£7.50
Jalfrezi Chicken
Spicy dish cooked with green chilli & fresh ginger
Spicy
£5.50
Jalfrezi Chicken Tikka
Spicy dish cooked with green chilli & fresh ginger
Spicy
£7.20
Jalfrezi King Prawn
Spicy dish cooked with green chilli & fresh ginger
Spicy
£9.90
Jalfrezi Lamb
Spicy dish cooked with green chilli & fresh ginger
Spicy
£5.50
Jalfrezi Lamb Tikka
Spicy dish cooked with green chilli & fresh ginger
Spicy
£7.20
Jalfrezi Mince
Spicy dish cooked with green chilli & fresh ginger
Spicy
£7.20
Jalfrezi Prawn
Spicy dish cooked with green chilli & fresh ginger
Spicy
£7.50
Jalfrezi Vegetable
Spicy dish cooked with green chilli & fresh ginger
Spicy
£5.00
Karahi Chicken
Prepared with fresh coriander, fresh garlic & ginger
Medium spicy
£5.50
Karahi Chicken Tikka
Prepared with fresh coriander, fresh garlic & ginger
Medium spicy
£7.20
Karahi King Prawn
Prepared with fresh coriander, fresh garlic & ginger
Medium spicy
£9.90
Karahi Lamb
Prepared with fresh coriander, fresh garlic & ginger
Medium spicy
£5.50
Karahi Lamb Tikka
Prepared with fresh coriander, fresh garlic & ginger
Medium spicy
£7.20
Karahi Mince
Prepared with fresh coriander, fresh garlic & ginger
Medium spicy
£7.20
Karahi Prawn
Prepared with fresh coriander, fresh garlic & ginger
Medium spicy
£7.50
Karahi Vegetable
Prepared with fresh coriander, fresh garlic & ginger
Medium spicy
£5.00
Korma Chicken
Sweet & creamy cooked with coconut & fresh cream
£5.60
Korma Chicken Tikka
Sweet & creamy cooked with coconut & fresh cream
£7.20
Korma King Prawn
Sweet & creamy cooked with coconut & fresh cream
£9.90
Korma Lamb
Sweet & creamy cooked with coconut & fresh cream
£5.60
Korma Lamb Tikka
Sweet & creamy cooked with coconut & fresh cream
£7.20
Korma Mince
Sweet & creamy cooked with coconut & fresh cream
£7.20
Korma Prawn
Sweet & creamy cooked with coconut & fresh cream
£7.50
Korma Vegetable
Sweet & creamy cooked with coconut & fresh cream
£5.00
Kashmir Chicken
Kashmir dishes are prepared like malaya but with banana
£5.50
Kashmir Chicken Tikka
Kashmir dishes are prepared like malaya but with banana
£7.20
Kashmir King Prawn
Kashmir dishes are prepared like malaya but with banana
£9.90
Kashmir Lamb
Kashmir dishes are prepared like malaya but with banana
£5.50
Kashmir Lamb Tikka
Kashmir dishes are prepared like malaya but with banana
£7.20
Kashmir Mince
Kashmir dishes are prepared like malaya but with banana
£7.20
Kashmir Prawn
Kashmir dishes are prepared like malaya but with banana
£7.50
Kashmir Vegetable
Kashmir dishes are prepared like malaya but with banana
£5.00
Dopiaza (Medium) Chicken
Prepared with medium spiced fried onions, green peppers & tomato
Medium
£5.50
Dopiaza (Medium) Chicken Tikka
Prepared with medium spiced fried onions, green peppers & tomato
Medium
£7.20
Dopiaza (Medium) King Prawn
Prepared with medium spiced fried onions, green peppers & tomato
Medium
£9.90
Dopiaza (Medium) Lamb
Prepared with medium spiced fried onions, green peppers & tomato
Medium
£5.50
Dopiaza (Medium) Lamb Tikka
Prepared with medium spiced fried onions, green peppers & tomato
Medium
£7.20
Dopiaza (Medium) Mince
Prepared with medium spiced fried onions, green peppers & tomato
Medium
£7.20
Dopiaza (Medium) Prawn
Prepared with medium spiced fried onions, green peppers & tomato
Medium
£7.50
Dopiaza (Medium) Vegetable
Prepared with medium spiced fried onions, green peppers & tomato
Medium
£5.00
Dopiaza (Mild) Chicken
Prepared with mild spiced fried onions, green peppers & tomato
Mild
£5.50
Dopiaza (Mild) Chicken Tikka
Prepared with mild spiced fried onions, green peppers & tomato
Mild
£7.20
Dopiaza (Mild) King Prawn
Prepared with mild spiced fried onions, green peppers & tomato
Mild
£9.90
Dopiaza (Mild) Lamb
Prepared with mild spiced fried onions, green peppers & tomato
Mild
£5.50
Dopiaza (Mild) Lamb Tikka
Prepared with mild spiced fried onions, green peppers & tomato
Mild
£7.20
Dopiaza (Mild) Mince
Prepared with mild spiced fried onions, green peppers & tomato
Mild
£7.20
Dopiaza (Mild) Prawn
Prepared with mild spiced fried onions, green peppers & tomato
Mild
£7.50
Dopiaza (Mild) Vegetable
Prepared with mild spiced fried onions, green peppers & tomato
Mild
£5.00
Curry Chicken
Medium spicy in sauce
Medium spicy
£5.50
Curry Chicken Tikka
Medium spicy in sauce
Medium spicy
£7.20
Curry King Prawn
Medium spicy in sauce
Medium spicy
£9.90
Curry Lamb
Medium spicy in sauce
Medium spicy
£5.50
Curry Lamb Tikka
Medium spicy in sauce
Medium spicy
£7.20
Curry Mince
Medium spicy in sauce
Medium spicy
£7.20
Curry Prawn
Medium spicy in sauce
Medium spicy
£7.50
Curry Vegetable
Medium spicy in sauce
Medium spicy
£5.00
Dansak Chicken
Prepared with lentil, lemon juice, medium spices & garnished with garlic butter
Medium
£5.50
Dansak Chicken Tikka
Prepared with lentil, lemon juice, medium spices & garnished with garlic butter
Medium
£7.20
Dansak King Prawn
Prepared with lentil, lemon juice, medium spices & garnished with garlic butter
Medium
£9.90
Dansak Lamb
Prepared with lentil, lemon juice, medium spices & garnished with garlic butter
Medium
£5.50
Dansak Lamb Tikka
Prepared with lentil, lemon juice, medium spices & garnished with garlic butter
Medium
£7.20
Dansak Mince
Prepared with lentil, lemon juice, medium spices & garnished with garlic butter
Medium
£7.20
Dansak Prawn
Prepared with lentil, lemon juice, medium spices & garnished with garlic butter
Medium
£7.50
Dansak Vegetable
Prepared with lentil, lemon juice, medium spices & garnished with garlic butter
Medium
£5.00
Bhuna Chicken
All bhuna dishes are cooked with fresh herbs & spices
Medium
£5.50
Bhuna Chicken Tikka
All bhuna dishes are cooked with fresh herbs & spices
Medium
£7.20
Bhuna King Prawn
All bhuna dishes are cooked with fresh herbs & spices
Medium
£9.90
Bhuna Lamb
All bhuna dishes are cooked with fresh herbs & spices
Medium
£5.50
Bhuna Lamb Tikka
All bhuna dishes are cooked with fresh herbs & spices
Medium
£7.20
Bhuna Mince
All bhuna dishes are cooked with fresh herbs & spices
Medium
£7.20
Bhuna Prawn
All bhuna dishes are cooked with fresh herbs & spices
Medium
£7.50
Bhuna Vegetable
All bhuna dishes are cooked with fresh herbs & spices
Medium
£5.00
Vindaloo Chicken
Very hot
£5.50
Vindaloo Chicken Tikka
Very hot
£7.20
Vindaloo King Prawn
Very hot
£9.90
Vindaloo Lamb Tikka
Very hot
£7.20
Vindaloo Vegetable
Very hot
£5.00
Rogan Josh Chicken
Prepared with spicy tomato, onions, garlic & ginger sauce
£5.50
Rogan Josh Chicken Tikka
Prepared with spicy tomato, onions, garlic & ginger sauce
£7.20
Rogan Josh King Prawn
Prepared with spicy tomato, onions, garlic & ginger sauce
£9.90
Rogan Josh Lamb
Prepared with spicy tomato, onions, garlic & ginger sauce
£5.50
Rogan Josh Lamb Tikka
Prepared with spicy tomato, onions, garlic & ginger sauce
£7.20
Rogan Josh Mince
Prepared with spicy tomato, onions, garlic & ginger sauce
£7.20
Rogan Josh Prawn
Prepared with spicy tomato, onions, garlic & ginger sauce
£7.50
Rogan Josh Vegetable
Prepared with spicy tomato, onions, garlic & ginger sauce
£5.00
Masala Chicken
Prepared with hard boiled egg & spicy tomato
Medium spicy
£5.60
Masala Chicken Tikka
Prepared with hard boiled egg & spicy tomato
Medium spicy
£7.20
Masala King Prawn
Prepared with hard boiled egg & spicy tomato
Medium spicy
£9.90
Masala Lamb
Prepared with hard boiled egg & spicy tomato
Medium spicy
£5.60
Masala Lamb Tikka
Prepared with hard boiled egg & spicy tomato
Medium spicy
£7.20
Masala Mince
Prepared with hard boiled egg & spicy tomato
Medium spicy
£7.20
Masala Prawn
Prepared with hard boiled egg & spicy tomato
Medium spicy
£7.50
Masala Vegetable
Prepared with hard boiled egg & spicy tomato
Medium spicy
£5.00
Methi Chicken
Methi dishes are prepared with fenugreek leaves, medium spicy fried onions, green peppers & freshly chopped coriander
Medium spicy
£5.50
Methi Chicken Tikka
Methi dishes are prepared with fenugreek leaves, medium spicy fried onions, green peppers & freshly chopped coriander
Medium spicy
£7.20
Methi King Prawn
Methi dishes are prepared with fenugreek leaves, medium spicy fried onions, green peppers & freshly chopped coriander
Medium spicy
£9.90
Methi Lamb
Methi dishes are prepared with fenugreek leaves, medium spicy fried onions, green peppers & freshly chopped coriander
Medium spicy
£5.50
Methi Lamb Tikka
Methi dishes are prepared with fenugreek leaves, medium spicy fried onions, green peppers & freshly chopped coriander
Medium spicy
£7.20
Methi Mince
Methi dishes are prepared with fenugreek leaves, medium spicy fried onions, green peppers & freshly chopped coriander
Medium spicy
£7.20
Methi Prawn
Methi dishes are prepared with fenugreek leaves, medium spicy fried onions, green peppers & freshly chopped coriander
Medium spicy
£7.50
Methi Vegetable
Methi dishes are prepared with fenugreek leaves, medium spicy fried onions, green peppers & freshly chopped coriander
Medium spicy
£5.00
Madras Chicken
Fairly hot
£5.50
Madras Chicken Tikka
Fairly hot
£7.20
Madras King Prawn
Fairly hot
£9.90
Madras Lamb Tikka
Fairly hot
£7.20
Madras Vegetable
Fairly hot
£5.00
Malaya (Medium) Chicken
Prepared with pineapple fruit, coconut & a creamy medium sauce
Medium
£5.50
Malaya (Medium) Chicken Tikka
Prepared with pineapple fruit, coconut & a creamy medium sauce
Medium
£7.20
Malaya (Medium) King Prawn
Prepared with pineapple fruit, coconut & a creamy medium sauce
Medium
£9.90
Malaya (Medium) Lamb
Prepared with pineapple fruit, coconut & a creamy medium sauce
Medium
£5.50
Malaya (Medium) Lamb Tikka
Prepared with pineapple fruit, coconut & a creamy medium sauce
Medium
£7.20
Malaya (Medium) Mince
Prepared with pineapple fruit, coconut & a creamy medium sauce
Medium
£7.20
Malaya (Medium) Prawn
Prepared with pineapple fruit, coconut & a creamy medium sauce
Medium
£7.50
Malaya (Medium) Vegetable
Prepared with pineapple fruit, coconut & a creamy medium sauce
Medium
£5.00
Malaya (Mild) Chicken
Prepared with pineapple fruit, coconut & a creamy mild sauce
Mild
£5.50
Malaya (Mild) Chicken Tikka
Prepared with pineapple fruit, coconut & a creamy mild sauce
Mild
£7.20
Malaya (Mild) King Prawn
Prepared with pineapple fruit, coconut & a creamy mild sauce
Mild
£9.90
Malaya (Mild) Lamb
Prepared with pineapple fruit, coconut & a creamy mild sauce
Mild
£5.50
Malaya (Mild) Lamb Tikka
Prepared with pineapple fruit, coconut & a creamy mild sauce
Mild
£7.20
Malaya (Mild) Mince
Prepared with pineapple fruit, coconut & a creamy mild sauce
Mild
£7.20
Malaya (Mild) Prawn
Prepared with pineapple fruit, coconut & a creamy mild sauce
Mild
£7.50
Malaya (Mild) Vegetable
Prepared with pineapple fruit, coconut & a creamy mild sauce
Mild
£5.00
Mughali Chicken
Mughali dishes are prepared with hard boiled eggs, ground almonds & creamy mild sauce
Mild
£5.60
Mughali Chicken Tikka
Mughali dishes are prepared with hard boiled eggs, ground almonds & creamy mild sauce
Mild
£7.20
Mughali King Prawn
Mughali dishes are prepared with hard boiled eggs, ground almonds & creamy mild sauce
Mild
£9.90
Mughali Lamb
Mughali dishes are prepared with hard boiled eggs, ground almonds & creamy mild sauce
Mild
£5.60
Mughali Lamb Tikka
Mughali dishes are prepared with hard boiled eggs, ground almonds & creamy mild sauce
Mild
£7.20
Mughali Mince
Mughali dishes are prepared with hard boiled eggs, ground almonds & creamy mild sauce
Mild
£7.20
Mughali Prawn
Mughali dishes are prepared with hard boiled eggs, ground almonds & creamy mild sauce
Mild
£7.50
Mughali Vegetable
Mughali dishes are prepared with hard boiled eggs, ground almonds & creamy mild sauce
Mild
£5.00
Pathia Chicken
Pathia dishes are sweet & sour spicy hot, medium dry thick sauces
Spicy hot
£5.50
Pathia Chicken Tikka
Pathia dishes are sweet & sour spicy hot, medium dry thick sauces
Spicy hot
£7.20
Pathia King Prawn
Pathia dishes are sweet & sour spicy hot, medium dry thick sauces
Spicy hot
£9.90
Pathia Lamb
Pathia dishes are sweet & sour spicy hot, medium dry thick sauces
Spicy hot
£5.50
Pathia Lamb Tikka
Pathia dishes are sweet & sour spicy hot, medium dry thick sauces
Spicy hot
£7.20
Pathia Mince
Pathia dishes are sweet & sour spicy hot, medium dry thick sauces
Spicy hot
£7.20
Pathia Prawn
Pathia dishes are sweet & sour spicy hot, medium dry thick sauces
Spicy hot
£7.50
Pathia Vegetable
Pathia dishes are sweet & sour spicy hot, medium dry thick sauces
Spicy hot
£5.00
Phall Chicken
Very very hot
£5.90
Phall Chicken Tikka
Very very hot
£7.20
Phall King Prawn
Very very hot
£9.90
Phall Lamb Tikka
Very very hot
£7.20
Phall Mince
Very very hot
£7.20
Phall Prawn
Very very hot
£7.50
Phall Vegetable
Very very hot
£5.00
Contact Us
Find Us
135 Laughton Road, Sheffield, S252PP
We deliver to
S25, S26, S66, S81