About Us
Indian Chef is a Curry takeaway in Sheffield. Why don't you try our Aloo Methi or Malaya (Medium)?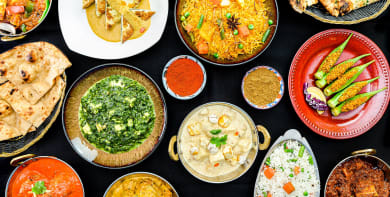 Reviews
448 reviews
Oliver
"Excellent food, good servings and great service. Would recommend!"
24/11/2020
David
"Good food, slighty cold and the sauce was thick, but good value. Delivery was fast and the driver great!"
22/11/2020
Rhys
"Lovely food great service as always."
22/11/2020
Kennedy
"Food always excellent from here. Slightly late but can't complain on a Saturday evening. Food is always delicious."
21/11/2020
Menu
Moonj Daal Massala (Vegetarian House)
Spicy Medium
£5.90
Vegetarian Special Balti (Vegetarian House)
Prepared with spicy tomato, onions, green pepper & ginger
Spicy Medium Hot
£5.90
Aloo Methi (Vegetarian House)
£5.90
Mixed Vegetable Passanda (Vegetarian House)
Spicy mild cooked with almond flakes
£5.90
Saag Paneer (Vegetarian House)
£5.90
Vegetable Mango (Vegetarian House)
£5.90
Paneer Jalfrezi (Vegetarian House)
£5.90
Doner Kebab on Garlic Nan
£5.50
Chicken Tikka Sandwich in A Nan
£7.00
Chicken Tikka Sandwich in A Garlic Nan
£7.15
Aloo Mathis (Vegetable Side Dish)
Cooked with fresh corriender
Spicy medium
£4.15
Bombay Aloo (Vegetable Side Dish)
Spicy potato cooked with fried onion & tomato
£3.90
Chana Aloo (Vegetable Side Dish)
Spicy potatoes & chick peas
£3.90
Chana Massala (Vegetable Side Dish)
Spicy chick peas
£3.90
Bindi Bhaji (Vegetable Side Dish)
Okra green vegetables
Spicy medium
£4.15
Aloo Gobi (Vegetable Side Dish)
Spicy cauliflower & potatoes
£3.90
Dall Samba (Vegetable Side Dish)
Lentils with mixed veg garnished with garlic butter
Spicy hot
£4.15
Muttar Paneer (Vegetable Side Dish)
Cottage cheese cooked with peas
Mild creamy spicy
£4.15
Mushroom Bhaji (Vegetable Side Dish)
£4.15
Massala Dall (Vegetable Side Dish)
Lentils cooked with butter garlic & spices
£3.90
Vegetable Curry (Vegetable Side Dish)
£3.90
Saag Aloo (Vegetable Side Dish)
Spinach with potatoes
£3.90
Saag Paneer (Vegetable Side Dish)
Garlic butter with spinach & cottage cheese
Mild & creamy
£4.15
Chicken Tikka Shashlik Tandoori
£10.25
Set Meals for Two People
2 Popadoms
1 Onion Bhaji 
1 Shami Kebab
1 Nan Bread 
1 Lamb Bhuna
1 Chicken Dupiaza
1 Boiled Rice 
1 Yoghurt Mint Sauce
£20.00
Set Meals for Three People
3 Popadoms
1 Shami Kebab 
1 Chicken Tikka 
1 Onion Bhaji 
1 Pilau Rice 
1 Nan Bread 
1 Lamb Bhuna 
1 Chicken Dupiaza
1 Chicken Tikka Curry 
1 Boiled Rice 
1 Yoghurt Mint Sauce
£32.50
Set Meals for Four People
4 Popadoms 
1 Onion Bhaji 
1 Tandoori 
1 Shami Kebab 
1 Chicken Tikka 
1 Boiled Rice
1 Nan Bread 
1 Chicken Dupiaza 
1 Chicken Tikka Curry 
1 Lamb Bhuna 
1 Chicken Korma 
1 Pilau Rice 
1 Portion of Chips 
1 Yoghurt Mint Sauce
£41.50
Set Vegetarian Meals for Two People
2 Popadoms 
1 Onion Bhaji 
1 Vegetable Pakora
1 Vegetable  Mango 
1 Channa Massala 
1 Garlic Nan 
1 Mushroom Fried Rice 
1 Yoghurt Mint Sauce 
£19.00
Sirloin Steak
With chips, fried onions and mushrooms
£8.90
Mushroom Omelette
With chips
£6.90
Masterchef's Special Biryani
£10.50
Vegetable Biryani
Suitable for vegetarians
£8.00
Onion Bhaji
Specially created for vegetarians
£2.30
Pakora
Also suitable for vegetarians
£3.25
Special Fried Rice
Cooked with mixed nuts and sultanas
£3.15
Garlic & Fresh Corriender Nan
£2.75
Peshwari Nan
Cooked with sweet almonds paste
£2.90
Kulcha Nan
Spicy onion base
£2.90
Stuffed Paratha
Spicy vegetables
£2.50
Achar Chicken
Cooked with pickles
Spicy Hot
£7.90
Achar Lamb
Cooked with pickles
Spicy Hot
£7.90
Hariyali Chicken
Cooked with mint & spinach
Medium
£7.90
Hariyali Lamb
Cooked with mint & spinach
Medium
£7.90
Kalia Chicken
Mint & green chillies
Spicy Hot
£7.90
Kalia Lamb
Mint & green chillies
Spicy Hot
£7.90
Pasanda Gosht Chicken
Lamb or chicken, spicy mild with almond flakes
£7.90
Pasanda Gosht Lamb
Lamb or chicken, spicy mild with almond flakes
£7.90
King Prawn Pasanda
Cooked with almond flakes & cream
Spicy mild 
£10.90
Nuwabi Gosht
Lamb cooked with fresh green chillies and fresh coriander 
Spicy Hot
£7.90
Chicken Makani
Chicken tikka cooked with butter & creamy sauce
£7.90
Aloo Gousht Lamb
Lamb or chicken, spices cooked with potato 
Medium Spices
£7.90
Aloo Gousht Chicken
Lamb or chicken, spices cooked with potato 
Medium Spices
£7.90
Chicken Mango
Sweet, Spicy & yummy
£7.90
Keema Mutter
Pease with mincemeat 
Spciy Medium 
£8.90
Ginger Lamb
Cooked with fresh ginger and fresh coriander
Spicy medium
£7.90
Mixed Special Jalfrezi
Spciy medium Hot 
£9.50
Mince Balti
Spciy medium Hot
£8.25
Chicken Balti
Spicy medium Hot
£7.90
Lamb Balti
Spicy medium Hot
£7.90
Chicken Tikka Balti
Spicy medium Hot
£8.15
Lamb Tikka Balti
Spicy medium Hot
£8.15
King Prawn Balti
Spciy medium Hot
£10.90
Prawn Balti
Spicy medium Hot
£8.90
Mixed Special Balti
Spicy medium Hot
£9.90
Chicken Sag
Cooked with garlic & spinach 
Medium
£7.90
Lamb Sag
Cooked with garlic & spinach
Medium
£7.90
Curries
Medium spicy in sauce
£5.90
Phall Very Very Hot Curry
£6.25
Jalfraizi Curry
Spicy dish cooked with green chilli & fresh ginger
£5.90
Pathia Curry
Patha dishes are sweet & sour spicy hot, medium dry thick sauces 
£5.90
Madras & Vindaloo Curry
Madras dishes are fairly hot & the vindaloos are very hot
£5.90
Bhuna Dishes Curry
All bhuna dishes are cooked with fresh herbs & spices
Medium
£5.90
Dopiazas Curry
Prepared with median/mild spiced fried onions, green peppers & tomato
£5.90
Dansak Curry
Prepared with lentil, lemon Juice, medium spices & garnished with garlic butter
£5.90
Malaya Curry
Prepared with pineapple fruit, coconut & a creamy medium / mild sauce
£5.90
Methi Curry
Meth dishes are Prepared with fenugreek leaves, medium spicy fried onions, green peppers & freshly chopped coariander
£5.90
Massalas Curry
Prepared with hard boiled egg & spicy tomato
Medium spicy
£6.10
Korma Curry
Sweet & creamy cooked with coconut & fresh cream
£6.10
Karahi Curry
Prepared with fresh coriander, fresh garli & ginger
Medium spicy
£5.90
Rogan Curry
Prepared with spicy tomato, onions, garlic & ginger sauce
£5.90
Mughali Curry
Mughal dishes are prepared with hard boiled eggs ground almond & creamy mild sauce
£6.10
Kashmir Curry
Kashmir dishes are pepared like malaya but with banana
£5.90
Fish Curry
Fish cooked with special blend of herbs & spices in medium / mild sauce
£7.90
Contact Us
Find Us
135 Laughton Road, Sheffield, S252PP
We deliver to
S25, S26, S66, S81